October-4-2019
Took and old friend fishing today and we really wanted to show his group a good time. The Sauerfish boys did not dissapoint. LIMITS OF YELLOWFIN TUNA AND YELLOWTAIL!
See ya next year!!
September-30-2019
Had to take a brief break for maintenance but picked up right where we left off. We enjoyed LIMITS OF YELLOWFIN, SKIPJACK, AND YELLOWTAIL.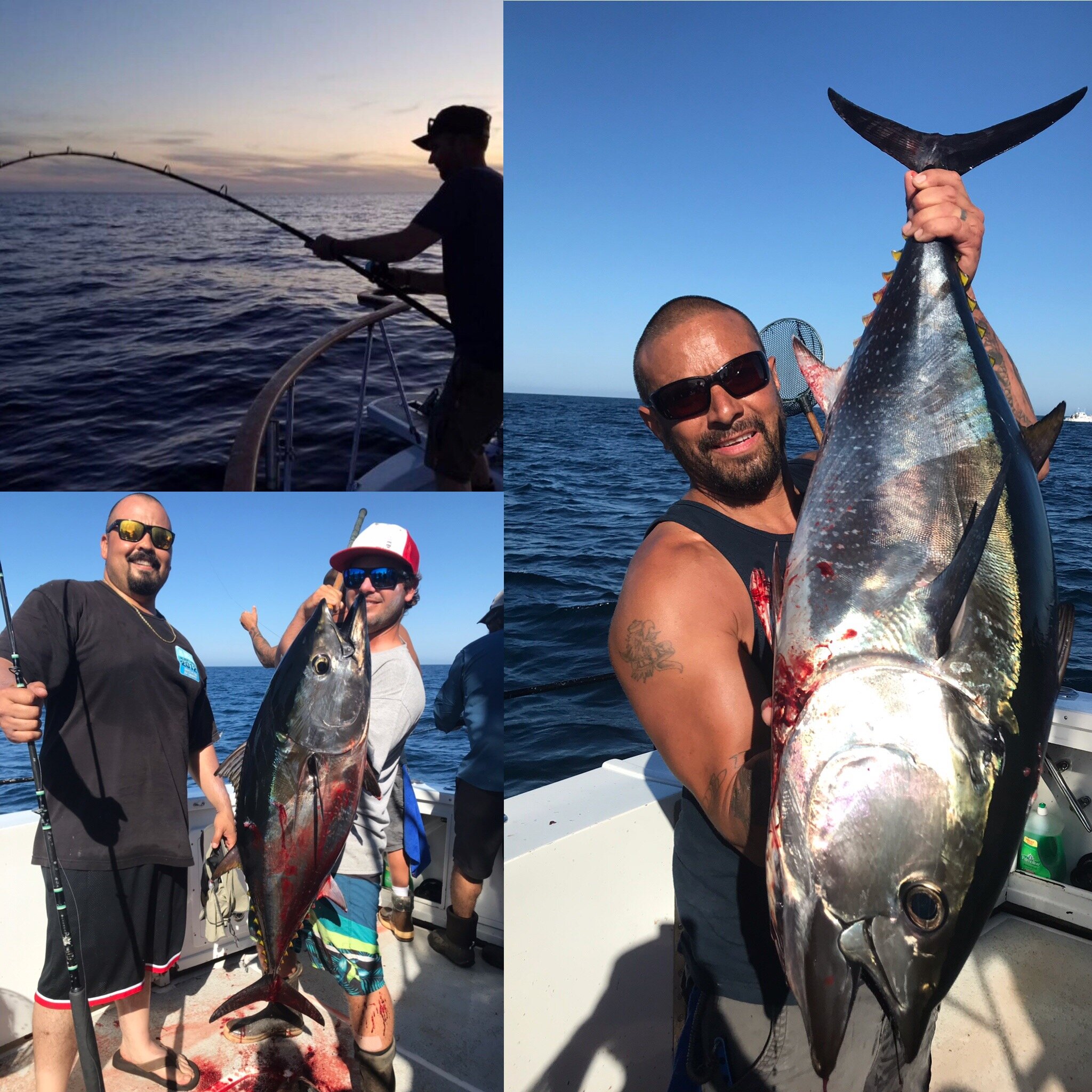 September-15-2019
Hell of a Sun Downer bite!
We Started hooking em around 3 PM and picked away at 40-70 lb Bluefin Tuna till sundown!!! Had an AWESOME time with this group!
September-14-2019
As you can see here….. THE STOKE IS REAL!! Little tougher today but the ones we did hook we made it count and wouldn't have it any other way.
September-13-2019
Had a nice hit on 15-30 lb Yellowfin Tuna followed up by some bruiser Bluefin Tuna in the afternoon. Great Group of guys right here!
September-12-2019
Great Fishing for 40-60 lb Bluefin Tuna!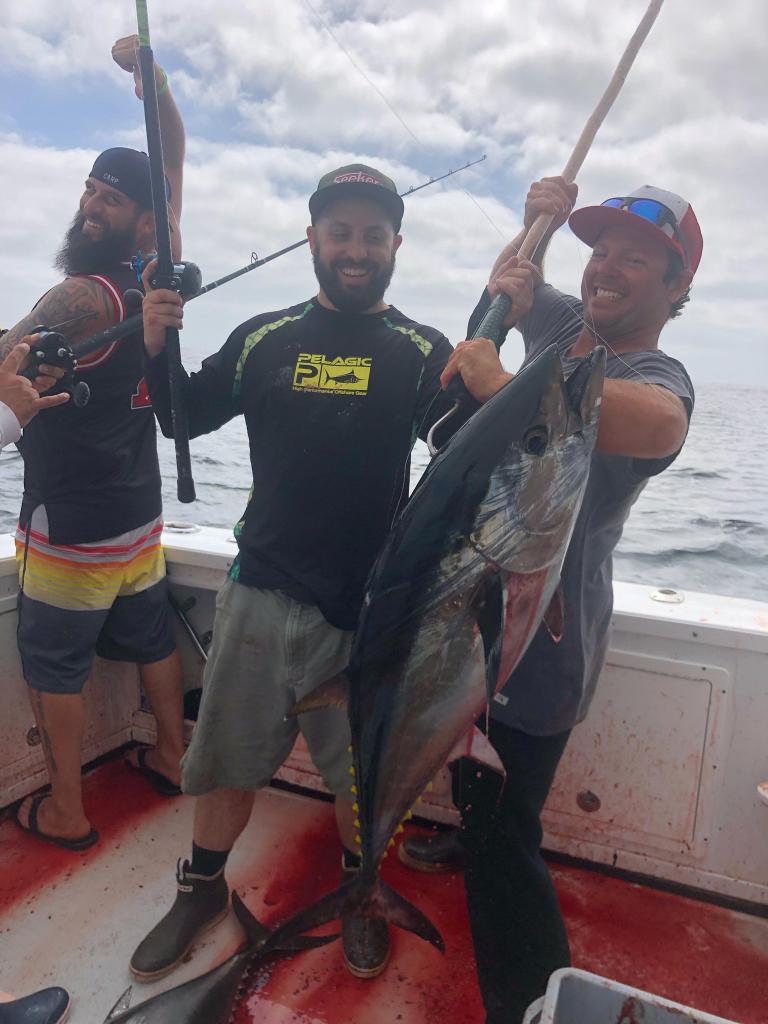 September-9-2019
What a day! Stopped the boat at grey light on a big school. We got right to work as we put on LIMITS OF BLUEFIN AND YELLOWFIN TUNA UP TO 50 LBS. Very good local fishing now.
September-8-2019
Had my good buddy Landry out and got into some very nice Bluefin Tuna to 50lbs!
September-6-2019
LIMITS OF YELLOWFIN TUNA FOR HECTOR AND FRIENDS!
September-3-2019
WOW.
Where do I start? Our open party 1.5 day consisting of four anglers was a total BLAST! We stopped the boat once and got right to work. Tuna blowing up around the boat all morning! Needless to say we caught our LIMITS of Yellowfin and Bluefin Tuna!!
September-1-2019
Had some "frothing grommets" on the boat with us today. That means young water-men in training. Anyhow the good energy was through the roof with plenty of opportunity to catch nice grade Yellowfin Tuna!!
August-31-2019
Tough fishing on the Yellowfin Tuna, so we changed area codes and made it happen!
August-29-2019
Took these guys out for a team building event for work. All I can say is they worked very well as a team to boat up LIMITS of Yellowfin Tuna! Oh yeah and a Yellowtail…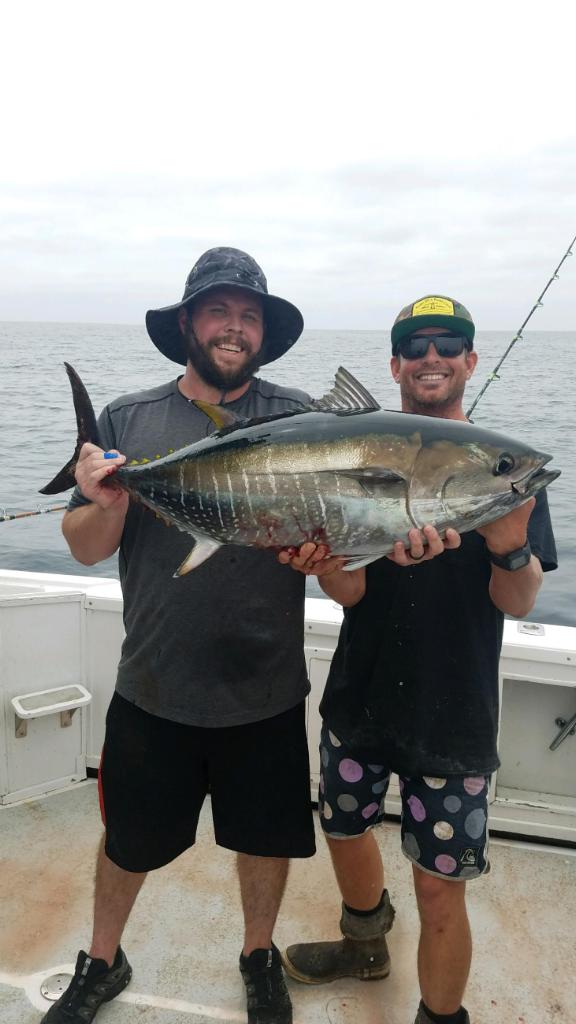 August-28-2019
Day 2: The boys found a magic patty and got into some TROPHY BLUEFIN TUNA!
August-27-2019
Captain Patrick called in early with LIMITS of Yellowfin for day one of his two day. They already had a nice start on day two limits. Lets see what Day 2 has in store!! Good Going guys!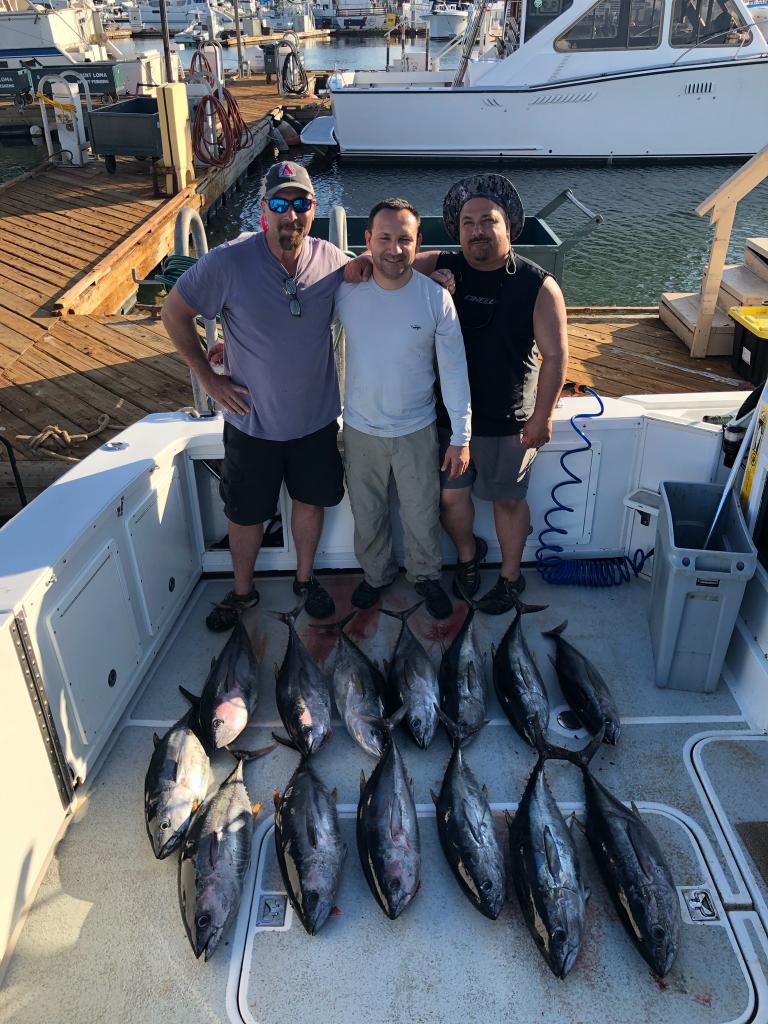 August-26-2019
Our three anglers enjoyed limit style Yellowfin Tuna fishing with a side of Bluefin Tuna!!
August-26-2019
Great times with great company!
August-25-2019
INSANE. Stopped the boat once at gray light for nice grade Bluefin and Yellowfin Tuna!! LIMITS BABY!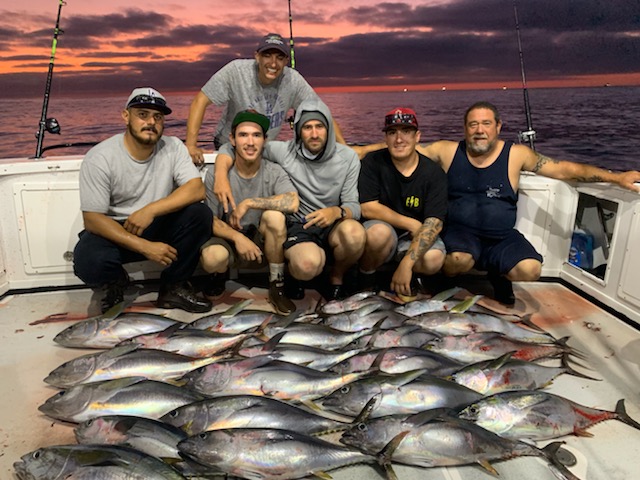 August-24-2019
Our two day did not disappoint as we had a stellar sun-downer bite for LIMITS of Nice grade Yellowfin Tuna. Day two was fun filled with trophy BluefinTuna to 60LBS!!
August-22-2019
LIMITS OF NICE GRADE YELLOWFIN TUNA!
August-22-2019
Took Bryan and his father fishing and we KILLED IT. Easy limits by 10 AM of Yellowfin Tuna with a token Dorado!!!
August-21-2019
Ok guys everyone was tired of scrolling down to our latest fish report so here it is!
LIMITS OF YELLOWTAIL!
SCROLL DOWN TO SEE IT ALL!!
4-22-2019
Our open party 1.5 day trip enjoyed 60-80 lb Bluefin Tuna!
5-15-2019
Fished a PM Half Day in La Jolla, we were rewarded with some beautiful Yellowtail!
6-22-2019
First Yellowfin Tuna of the year! Great grade on these fish too, all weighing in around 30 lbs!
4-30-2019
We got on a school of bruisers landing one 80lb Bluefin for our many hook ups. Can't win em all!
4-17-2019
Epic fishing! Limits of 60-90 lb Bluefin Tuna!
5-27-2019
Chris knows how to get it done! Nice 70lber buddy!
6-1-2019
Got on a school of very catchable 20-30 lb Bluefin Tuna today!
5-15-2019
Rachel was in the right place at the right time and was super stoked to get this inshore yellowtail!
6-18-2019
Uncle Tony and nephew got into some quality sized Bluefin on the sinker rig!!
6-20-2019
The Face of Small Boat Club, John Edwards with a butterball of a Bluefin. As he would say "just playin wit it"
6-23-2019
One of the many Bluefin Tuna that choked on our poppers. Lots of tuna foaming and crashing on the surface! Practice up on that looong cast!
6-25-2019
Capt James Santos managed a few Yellowfin Tuna on the popper for his efforts!
June - 28 - 2019
Angler Vick said to himself "hmmm I wanna go saltwater fishing, I should get a 2 speed reel with 40 lb line…. That should do it".
Well he did and look at what happened!!!!
June -29-2019
One of our favorite charter groups here on the Sauerfish getting some mixed grade Bluefin and Yellowfin on fly- lined baits….good going boys!
June -30- 2019
After the smoked cleared the boys ended up with a beautiful catch of Bluefin Tuna, Yellowfin Tuna, and Yellowtail up to 100 lbs for their trip!!!!!
July -4-2019
Even when there is a gap in the schedule Capt James Santos is out there finding the fish for his next charter. On this day he found 150 lb+++ Tuna willing to jump on his popper!
July-6-2019
These helicopter pilots in training had an afternoon off and want to do some fishing….there was no need to bottom fish on this particular day.
July-7-2019
Jeff chartered the boat for himself and a friend, they got limits of Bluefin Tuna and some nice Yellowfin Tuna……What a nice guy! Had a blast hanging with these two legends.
July-11-2019
David and his family engaged in battle at the Cornado Islands. After the smoke cleared they were left with some hurting arms and limits of Hard Fighting Yellowtail!
July -13-2019
What can I say? Off its rocker, off the Richter scale or maybe just plain ridiculous! The Yellowtail were not messing around today and pretty much ate everything we threw at em! Good livin' and easy limits. Must be the luck of the Irish!
July-19-2019
Jim and his brother are very competitive guys, having a biggest Tuna competition every time they fish. Both caught respectable Bluefin Tuna but his brother took him out this time with a 90+ lb fish on light line after a 2 hour battle! Good going guys!!!!
July-23-2019
After a slow-ish morning we changed area codes and got into a new body of fish…They were all big and biting!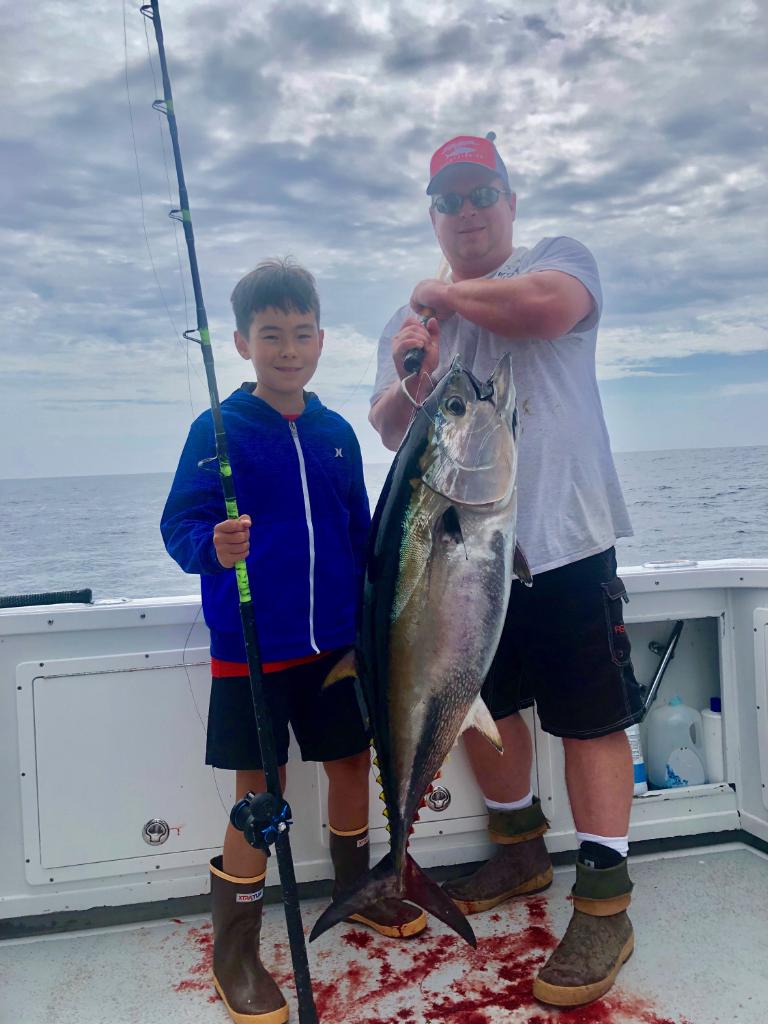 July-23-2019
The kids were on board and eager to rope in some tuna. This young man has the right technique and expertise to get the job done. He made quick work of this Bluefin Tuna on 30lb string!
July-29-2019
Our new friend stuck to his guns and fished 50 lb string with a lively sardine and was handsomely rewarded with a butterball of a Bluefin Tuna.
July-29-2019
A little bit everything was working today. We had bites on sardine, surface plugs and kite baits. This fish fell for the fresh dead flying fish dangled from the kite. Always nice to hook them on the heavy duty kite gear!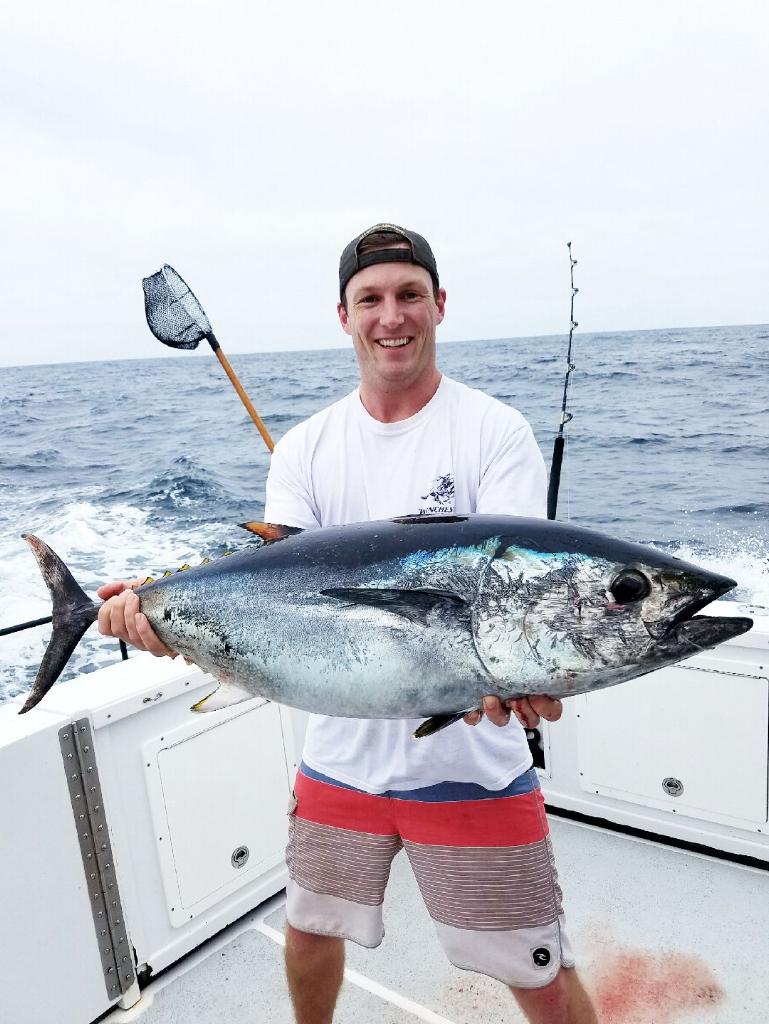 August-3-2019
Capt Patrick put these guys on some Bluefin Tuna and Yellowtail. They caught a couple on rod and reel and then busted out the spearguns for the bonus round!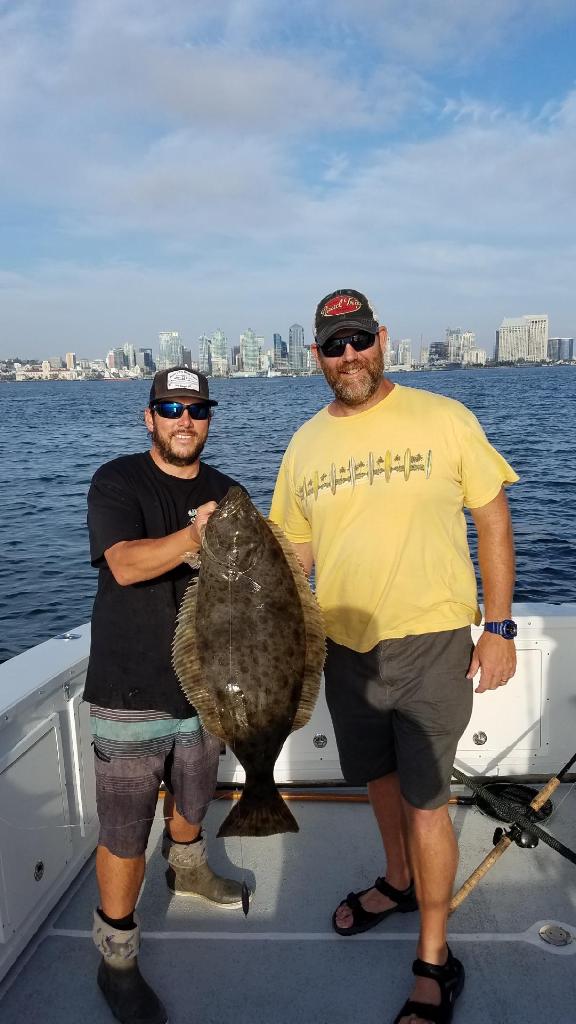 August-7-2019
Nice PM Half Day Halibut!!
August-8-2019
The kids were halfing a blast picking away at Red Rockfish on their AM Half Day!
August-8-2019
While the kids were picking away at the bottom fish Dad fly-lined a sardine and caught a Nice Coronado Island Yellowtail!
August-9-2019
Found a good kelp for our seasoned overnight anglers! They put on 20 nice grade Yellowtail!
August-10-2019
Found the right kelp again for our group. We ended up withLIMITS of 12-25 lb Yellowtail!
August-12-2019
Good vibes = Good fishing
You guys rock!
August-13-2019
After a Few bouts with motion sickness these guys pulled it together and put some quality Red Rockfish on the boat!
August-16-2019
Bring your boots folks because its HEATING UP!
August-16-2019
Great day on the water with our four anglers! We enjoyed steady fishing for Yellowfin Tuna ending the day three fish shy of LIMITS!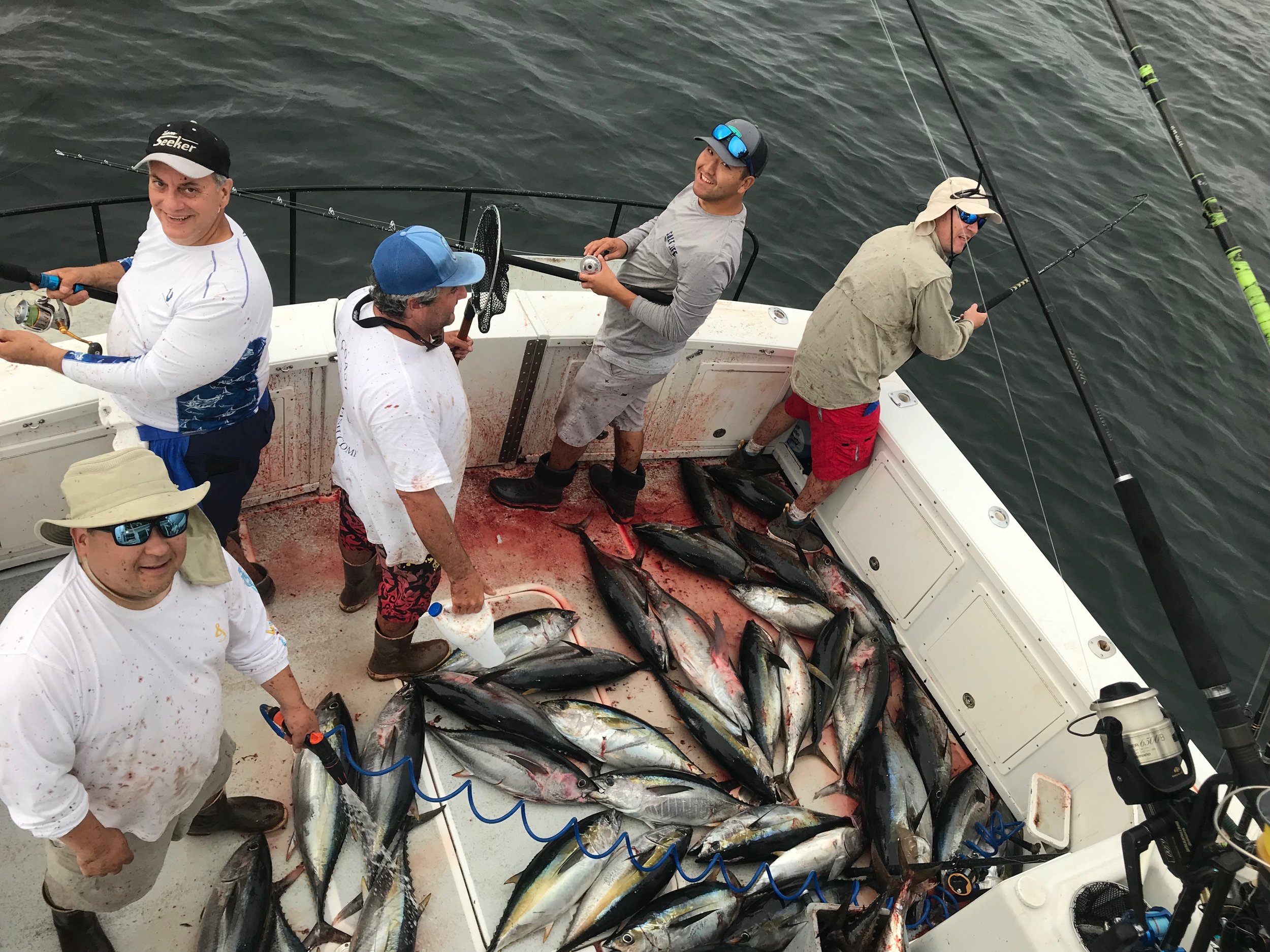 August-17-2019
FULL TILT FULL SPEED.
We Caught as many as you could ever want or need. Full boat LIMITS for our six open party guests and crew. Great grade Yellowtail, Yellowfin Tuna and Bluefin Tuna were captured today!!